Board member
Susan Larson
will moderate an Author Discussion and Q&A Session for
An Evening with Walter Isaacson
on December 11 at The New Orleans Advocate.
*
Board Members
Susan Larson
and
Dawn Ruth Wilson
have written chapters in the upcoming
New Orleans: The First 300 Years
. Susan's chapter is "Literary Heritage" and Dawn's is "Education". The book is published by Pelican Publishing.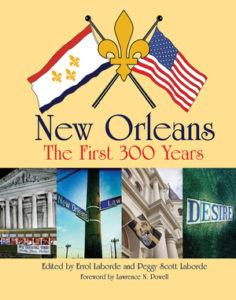 *
Chapter Members
Ann Benoit
and
Jean M. Redmann aka R. Jean Reid
were part of the
New Orleans Book Festival
, Saturday, November 11, at City Park.
*
LSU Press will be publishing Chapter Member Miki Pfeffer's book on Grace King and Mark Twain, including letters she is transcribing. She recently spoke at a Gallier Gathering on "New Orleans Ladies and the 1884 Cotton Centennial Exposition". Miki's book is Southern Ladies and Suffragists: Julia Ward Howe and Women's Rights at the 1884 New Orleans World's Fair.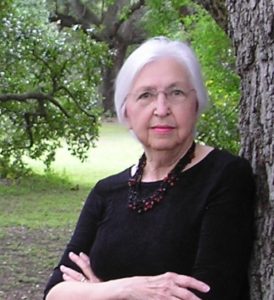 *
 Chapter Members
Stacey Balkun
,
Nancy Dixon,Ronlyn Domingue
,
Freddi Williams Evans
,
Gina Ferrara
,
Judith Lafitte, Colleen Mooney
,
Melinda Palacio,Andrea Panzeca, Whitney Stewart
and
Andy Young
were featured authors and/or panelists at the 14th Annual
Louisiana Book Festival
in Baton Rouge on October 28.
*
Read two poems by Chapter member
Alexandra Reisner
in the latest issue of
Knicknackery
.
*
Chapter Member Andrea Panzecais the author of poetry chapbooks Rusted Bells and Daisy Baskets and Weird… Joe Pesci.
Listen to Andrea on Susan Larson's The Reading Life.
*
Conundrum Books, co-owned by Chapter Member Missy Couhig, in St. Francisville, is starting up an imprint called Feliciana Publishing Partners and is now holding a children's book publishing contest. All manuscripts (picture book, middle grade or young adult) should in some way feature a Louisiana or Southern theme, setting, or focus. Winners will be offered a publishing contract. Submissions will be accepted from September 10 until November 12.
*
Chapter Member
Colleen Mooney
has an entry in a Christmas cozy-mystery boxed collection,
The 12 Slays of Christmas
. Her story is number 4 in the series. All proceeds go to animal rescue charities.
*
Chapter Member
Laura Lane McNeal
is the author of
Dollbaby
, her first published novel.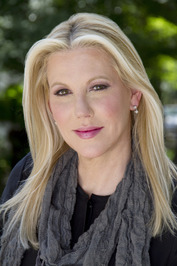 Chapter Member and award-winning poet
Laura Mullen
has new work posted as an online exclusive at
Conjunctions
. Read her
Six Elsie Poems
 here
. Recently, she visited New Zealand to
read
(also
here
) her poetry at the University of Auckland.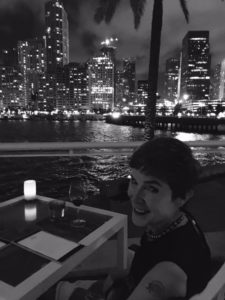 *
Chapter Member
Kathy Schrenk
's middle-grade novel is
A Dog Steals Home.
*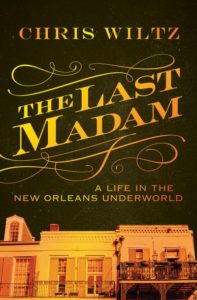 *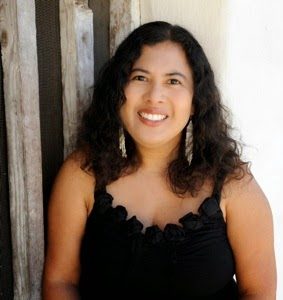 *
Chapter Member Gina Ferrara's latest poetry collection is Fitting the Sixth Finger: Poems Inspired by the Paintings of Marc Chagall.Gina's book is the focus of the feature The Whole Story in the latest WNBA Bookwoman newsletter. Chapter members Susan Larson and Melinda Palacio talk about and review Gina's work in the feature. You can also listen to Susan interview Gina here.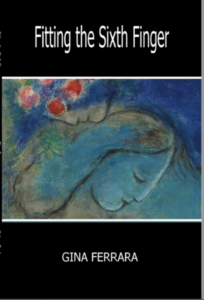 *
Last month, Chapter Member Molly Pulda led Newcomb Summer Session: Women's Literature, which is Newcomb's new pre-college program. Twenty high school students immersed themselves in women's literature and leadership for a week; they read Virginia Woolf, Alice Walker and Chimamanda Ngozi Adichie; and guest speakers included Chapter members Anne Boyd Rioux and Sally Kenney.
*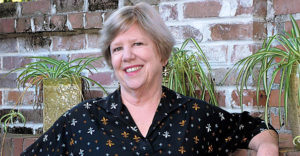 *
Chapter Member and
Pinckley Prizes
judge
Jean Redmann
has two new books out —
The Girl on the Edge of Summer
in her Micky Knight series and
Perdition
in her Nell McGraw series.
*
Chapter Member Stacey Balkun's chapbooks, Jackalope-Girl Learns to Speak and Lost City Museum, have both been nominated for the 2017 Elgin Award.
Stacey is also the first-place winner of the Poetry Division of WNBA's 5th Annual Writing Contest. Congratulations, Stacey!
*
Chapter Member, and one of the founding members,
Freddi Williams Evans
, award-winning author, independent scholar, arts educator and community activist, is being lauded as a
Humanities Hero
by the
Louisiana Endowment for the Humanities
(LEH). Among her many other activities and accomplishments, she currently serves as scholar for the Prime Time Family Time Literacy Program and as dean of Ashé Cultural Arts Center's Institute of Cultural Education. She is the author of
Congo Square: African Roots in New Orleans
and an international authority on the topic. She has also authored three historically based children's books. She is on the editorial board of the city's tricentennial book,
New Orleans & The World: The Tricentennial Anthology
, scheduled for release, fall 2017.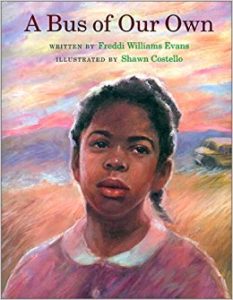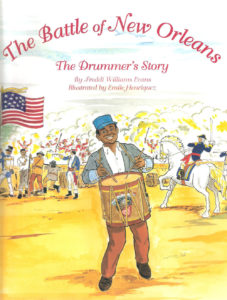 *
*
READ Posters from our May 2016 meeting:
Many thanks to Meghan Kelly, Country Day Lower School librarian, and Mary (Meb) Norton, Country Day School Director of Libraries, for hosting our meeting last year and for creating a fun 
poster
-making activity! Each member was asked to bring and pose with a copy of her favorite book.  Pictured below are Membership Chair
Sara Woodard
with
My Reading Life
by Pat Conroy and Community Outreach Chair
Linda Prout
with
The Little Free Library Book
by Margret Aldrich.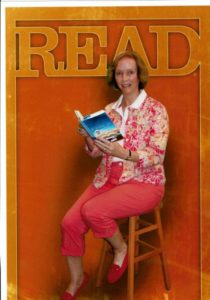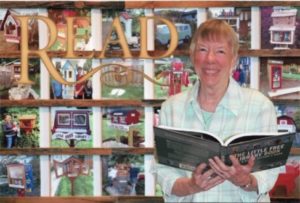 *
Chapter member
Jenny B. Tilbury
's
Welcome to the Garden Club
received an iUniverse "Editor's Choice" award.
Welcome to the Garden Club
is now available at Jefferson Parish and Orleans Parish Libraries.
*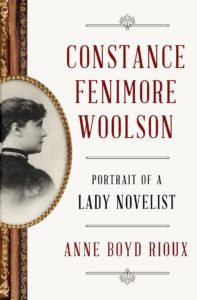 *
Chapter Members' Holiday Book Traditions:
from Member Miki Pfeffer: Last year's Christmas card was fun to create. My book tree is topped with my own Southern Ladies and Suffragists;  Julia Ward Howe and Women's Rights at the 1884 New Orleans World's Fair.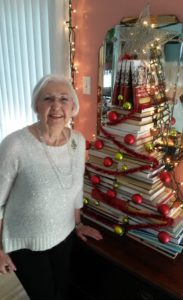 from Membership Chair Sara Woodard: Every year, I take out these faded holiday books, hand-written and illustrated by my two sons many years ago, and place them under the tree. (Yeah, they really love that!) I also add some local books, like the Cajun Night Before Christmas!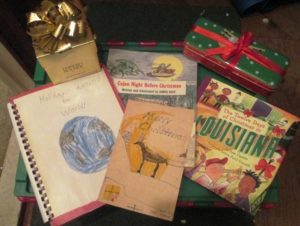 from Secretary Teresa Tumminello Brader: My Dickens Village started small and has grown (too!) big, but it remains centered around the story of A Christmas Carol (other Dickens' novels are also represented). Though its details may change from year to year, I strive to keep the display as historically and literarily accurate as possible.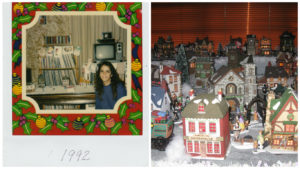 from Treasurer Karen Kersting: We observe the Advent tradition in my house with the Autumn/Winter volume of Phyllis Tickle's "Divine Hours". This book includes an entire section specifically arranged for the 4 weeks before Christmas. The selections of songs, prayers and quotes provides an opportunity for some reflective quiet in the midst of all the other preparations and celebrations. In the photo is an image of our Advent wreath & the book. It has become an oddly humorous family tradition that I can NEVER seem to find 3 purple candles of either the same size nor all in the exact same shade of purple. One year, I had no choice but to buy 4 white candles and embellish them with the correct-colored ribbon!
*
Co-founding Chapter member and Past-President
Susan Larson
's essay about the
A Christmas Carol
Read-Aloud tradition of the Dickens Fellowship of New Orleans is available near the end of the archived December 20th broadcast of
The Reading Life.
*
Our Members Recommend
A Redbird Christmas by Fannie Flagg
The Alaskan Laundry by Brendan Jones
Hollywood South: Glamour, Gumbo, and Greed by Linda Thurman
Strangers in Their Own Land by Arlie Russell Hochschild
A Man Called Ove and My Grandmother Asked Me to Tell You She's Sorry by Fredrik Backman
Fairendale series by R.L. Toalson
The Goldfinch by by Donna Tartt
The Hour of Land: A Personal Topography of America's National Parks by Terry Tempest Williams
The Nightingale by Kristin Hannah
The Neapolitan Novels by Elena Ferrante
*
Constance Adler, head of the Bayou Writing Workshop, taught two 2016 WNBA writing contest prize-winners: Nicole Eiden and Rita Juster.
Ann Benoit's third book New Orleans Best Seafood Restaurants is released by traditional publisher Pelican Publishing based in New Orleans.
Anne Boyd Rioux's Constance Fenimore Woolson: Portrait of a Lady Novelist was reviewed in The New York Times Book Review.
Susan Larson has co-written New Orleans' Literary Landmark: Hotel Monteleone, detailing its role in several famous authors' lives and works.
Laura Mullen's widely reviewed and praised eighth book, Complicated Grief, is a hybrid collection of poetry, prose, memoir and essay.
*
WNBA-NOLA Social Media:
We look forward to hearing about your books/events/projects.
Facebook:  WNBA chapter   https://www.facebook.com/Womens-National-Book-Association-of-New-Orleans-309177389110474/
Twitter:  WNBA chapter      WNBA of New Orleans     @WNBA_NOLA
Pinckley Prizes   https://www.facebook.com/pinckleyprizes/?fref=ts
Note:  We now have an email account for Social Media so if you do not use Facebook or Twitter please email us with your book/event/project news:  socmedctee@gmail.com