September 29; 6 – 9 PM: Putting the Banned Back Together; Chapter Recruitment Social and

Silent Auction

at private Uptown home

; RSVP to wnbaofnola@gmail.com
October 6; 6 PM: Pinckley Prizes Award Ceremony at The George & Joyce Wein New Orleans Jazz and Heritage Center, 1225 N. Rampart Street
At the September 29 meeting (see above), you won't want to miss these auction items:
Banned book week kit: You'll be all set to enjoy the week with this themed tote bag, socks and coffee mug!  Donated by Sara Woodard.  Value is $30.
The Miller's Daughter and Rumpelstiltskin Dolls from Anne Rice's collection: Anne began collecting dolls in the 1980s and at one point stored hundreds of them at St. Elizabeth's in New Orleans.  This particular set was made by nationally recognized doll artist and painter Nancy Wiley.  Her work, inspired by fine art, mythology and fairy tales, is exhibited in museums and galleries and sold to private collectors.  Donated by Sue Quiroz, Anne Rice's long-time assistant.  A copy of the children's book is included.  Value is $1,450. 
Vintage Mexican sterling silver bookmark.   Donated by Antiques and Jewels on Main and Alex Reisner. Value: $95 
2019 Tennessee Williams Festival Panel Pass and Tote Bag. Value: $120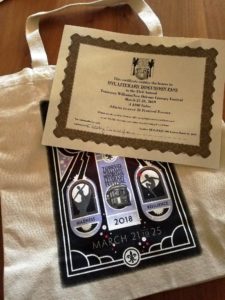 Encyclopedia Britannica, 9th Edition (1889).   Internet down?  Go to the original information source,  also known as the Encyclopedia Britannica!  This 26-volume leather-bound set (plus Index) is in good condition.  Donated by Laura Mullen. Value: $575   (E-bay evaluation)
Light Up for Literacy earrings: Wear these and your ears will sparkle!  Donated by Porter Lyons jewelry.  Value is $95.
120 years (1888-2008) of National Geographic at your fingertips! 
You'll want this set of DVDs you can play on Windows or Mac.  Donated by Sara Woodard. 
Value: $99.

New Orleans Museum of Art: Dual/family membership voucher provides membership for 2 adults plus children/grandchildren aged 17 and under for one full year.  Includes invites to member preview, notice of special events, subscription to NOMA magazine, discounts on educational programs and art classes, and on selected items in gift shop.  Must be redeemed by 2/28/19.  Value: $80.

 Massey's Professional Outfitters: Find your adventure with this $50 gift certificate.
Original Jim Bonner print of Red Winged Blackbird and Louisiana Wild Iris: This 16 x 20 unframed  numbered print was the featured gift of the Sierra Club's LA Delta Chapter's 100th Anniversary.  Jim Donner is a renowned Mississippi water color artist whose work has been exhibited at the Ohr-O'Keefe Museum  Value: Priceless.
Bracelet with Watch, donor anonymous.  Value: $50 
Stone necklace with beads, donor anonymous.  Value: $28
Smokey quartz pin, donor anonymous. Value: $50
Freshwater pearl/gold necklace, donor anonymous, Value: $60