Our first annual Member Book Launch Party was a big success!  Many  thanks to authors Liz Williams and Marti Dumas!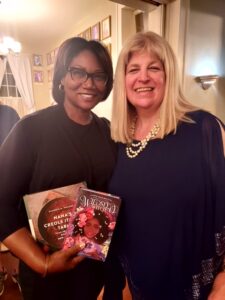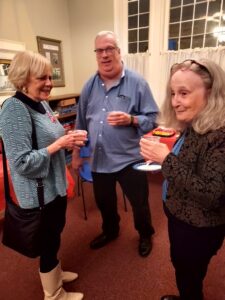 Come to our new annual book member book party!
Date: Friday, October 21, 2022, 6:30 pm
Place: L'Union Française, 4522 Prytania Street, New Orleans
We will be honoring works by two members — Marti Dumas and Liz Williams.
We are so proud to have so many accomplished writers in the New Orleans chapter of the Women's National Book Association!
This year, we are fêting the books recently published by Marti Dumas and Liz Williams.
Marti Dumas has written a marvelous Children's/YA novel Wildseed Witch. Situated in the Louisiana Bayou, young African-American girls are educated at Les Belles Demoiselles — a literal charm school where their powers are unleashed and refined. This Bildungsroman is soon to be part of a series.
Elizabeth M. Williams, president of The Southern Food and Beverage Museum of New Orleans and our Vice President, has published Nana's Creole Italian Table : Recipes and Stories from Sicilian New Orleans, a cook book that reflects on immigrant life in Louisiana and the meaning of family traditions surrounding food.
Both members and non members are welcome. Come hear from both authors, buy their books, and toast their success !