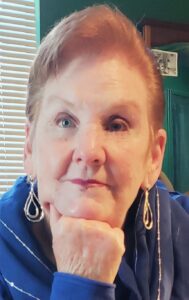 Pamela Ebel is WNBA-NOLA's new Vice President.  She was born in Northern California and raised by southern women; part of the diaspora created by the Great Depression. She returned to her roots at 21, receiving an M.A. from LSU-Baton Rouge and a JD from Loyola New Orleans. Her careers have included lawyer, university professor, law school associate dean, owner and producer of CLE programs and now, fiction writer.  Her poetry has appeared in the Delta Poetry Review. A series of short stories appear in various publications. Three of her stories were published in the 2020 BOULD AWARDS anthology which launched on Amazon in November, with one of the stories taking Second Place. She is a past president of Sisters in Crime NOLA and current Director of Programming, member of SINC National and a member of the WNBA and has served for several years as a board member of WNBA NOLA. She travels between New Orleans, California, Alabama and the Mississippi Delta sharing tales from the crossroads of America. And, like the ancient Greeks and the Irish, as a southern writer she knows you can't out run your blood.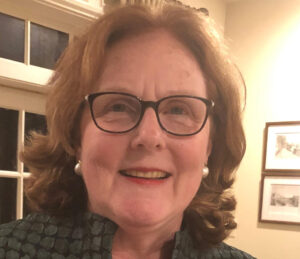 Winifred "Wendy" Delery Hills is the newly selected Secretary. Wendy has been a voluminous reader since childhood.  For the past seven years she has led a book group in New Orleans of women who for various reasons prefer to hear about books instead of reading them, so Wendy has read the books and secured authors and reviewers to present to the group. Susan Larson has come to the group for years and has helped with suggestions for speakers which is how Wendy heard about WNBA.
Besides reading, her hobbies include needlepoint and genealogy.  She plans to compile books for the various lines of her and her husband's families including more than just the family trees and DNA relatives.  She is also working on transcribing letters in her husband's family dating from 1795 through the mid-1800s and annotate them with information about those people and events mentioned therein.
A native of New Orleans, Wendy graduated from the Academy of the Sacred Heart, received a B. A. from Newcomb College and a J. D. from Tulane Law School, and practiced law in New Orleans until Hurricane Katrina forced her family to move to Fayetteville, Arkansas for 6 years.  Now, she and her husband John Fleury Hills reside in Mandeville.  Their son Robert lives in Nashville where he is pursuing an MBA at Vanderbilt.
Wendy has served as President of the Academy of the Sacred Heart Alumnae, Newcomb College Alumnae Association, Treasurer of the Stuart Hall Mother's Club, a member of the PTSO board at Fayetteville High School, President of Louisiana Guardianship Services, Inc, and is an Extraordinary Minister of Communion at Mary Queen of Peace Church in Mandeville.  She has also served as Treasurer of the national and international alumnae of Sacred Heart schools.
CONGRATULATIONS TO BOTH!